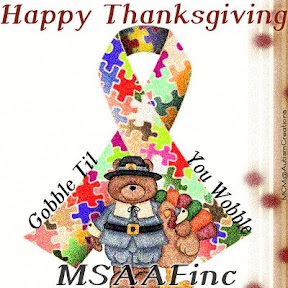 Dear Friends
Please join us in helping families in need this Thanksgiving.
Last year friends of The MSAAFinc donated enough
Thanksgiving groceries to feed over 10 families directly, and another 20 individuals where provided with a hot meal!
How can you help? Here's how it works. If you'd like to adopt a family for Thanksgiving, just email The MSAAFinc at MSAAFinc@gmail.com We will gather needed information and offer you options about the family or families you wish to adopt.
For a family of four: 12 pound turkey Two each of: Canned corn Canned sweet peas Canned cut green beans Canned yams Mac a roni & Cheese Boxed stuffing mix Canned chicken Broth Cans of fruit One each of: Turkey gravy Canned Cranberry Sauce Boxed corn bread mix Boxed instant potatoes
What you decide to do for your adopted family this Thanksgiving is entirely your choice. The suggested list at the right is a general guide for a family of four, but is in no way intended to pre scribe your Thanks giv ing meal choices. Do remember that if you are adopting a family of more than four, you will want to adjust your quantities accordingly.
While many of our sponsors are individuals, many organizations, churches or plantations also call and sponsor any where from 1–5 families. So, either call your self or propose to your Book Club, neighborhood, etc. that you do some thing together.
Last year we fed over 10 families. This year we are expecting more. We need your help! Thanks for participating!
Any donation no matter how small will be of great help!!
Thank you so much!!
MSAAFinc